Community Impact
The Community Impact Ministry equips and sends the people of Hill Country Bible Church to bless our community and saturate Greater Austin with the love of Jesus. As individuals grow in their walk with God, we develop and empower them to help lead our movement of changed lives that impacts Greater Austin for Christ.

Upcoming Community Events

2023 Fall Food Drive – Sunday, November 19th | All Locations
Food Drive is our annual food collection for our local food bank and community ministries. Food Drive Bags will be handed out after service on Nov. 5th. Fill your bag with the following items and bring them on Nov 19th to the collection location or leave it by your car and we will pick it up during service. If you are out of town that weekend, you can drop your goods off the week prior at the church offices for Community Impact.
Reveal Share your Blessing Box (goal of 500)
-frozen turkey Other Items needed:
-canned corn (2) 15 oz Canned fruit 15oz
-canned green beans (2) 15 oz Jam/Jelly (plastic preferred)
-canned sweet potatoes (2) 15 oz Granola Bars
-canned cranberry sauce Canned Chicken/Tuna/Meats
-instant mashed potatoes
-turkey gravy packet (no glass)
-stuffing mix
-boxed dessert mix
Polunsky Men's prison Ministry: LISD Weekend Food Program:
Men's full size bar soap/body wash Canned Vegetables
Men's full size shampoo (NO pump tops) Mac-n-Cheese
Men's deodorant Applesauce and Fruit Cups
Toothpaste
Faith Home Restoration: Trotter House (PRC):
Toilet paper Diapers: Size 4,5,6,7
Laundry pods Pullups: 3T/4T, 5T/6T
Kitchen trash bags (13 gallon) Baby Wipes (unscented) Baby Formula (Similac Advance)
Mission Possible:
Condiments (Ketchup, Mustard, BBQ, Ranch, etc)
Canned pastas/ravioli
Snacks
Serving Opportunities Donations
---
We are excited to start our 2023 Tree of Lights. You will be able to grab a tag off of one of the specified lobby tree or you can chose one online starting on Sunday, November 26th until Sunday December 10th. These tags have gift wishes for specific ministries or children in our community in need. If you have any questions, suggestions, or want to help in a way you do not see listed-please contact Carla Robertson or at 512-750-9643.
Gift wishes will be posted November 26th on the Hill Country Bible Church Community Impact website, so please watch for this. This is a great opportunity for you to invite a friend to join in and serve our community. Thank you for being willing to serve God by serving others.
Check out the serving opportunities that are available now!
---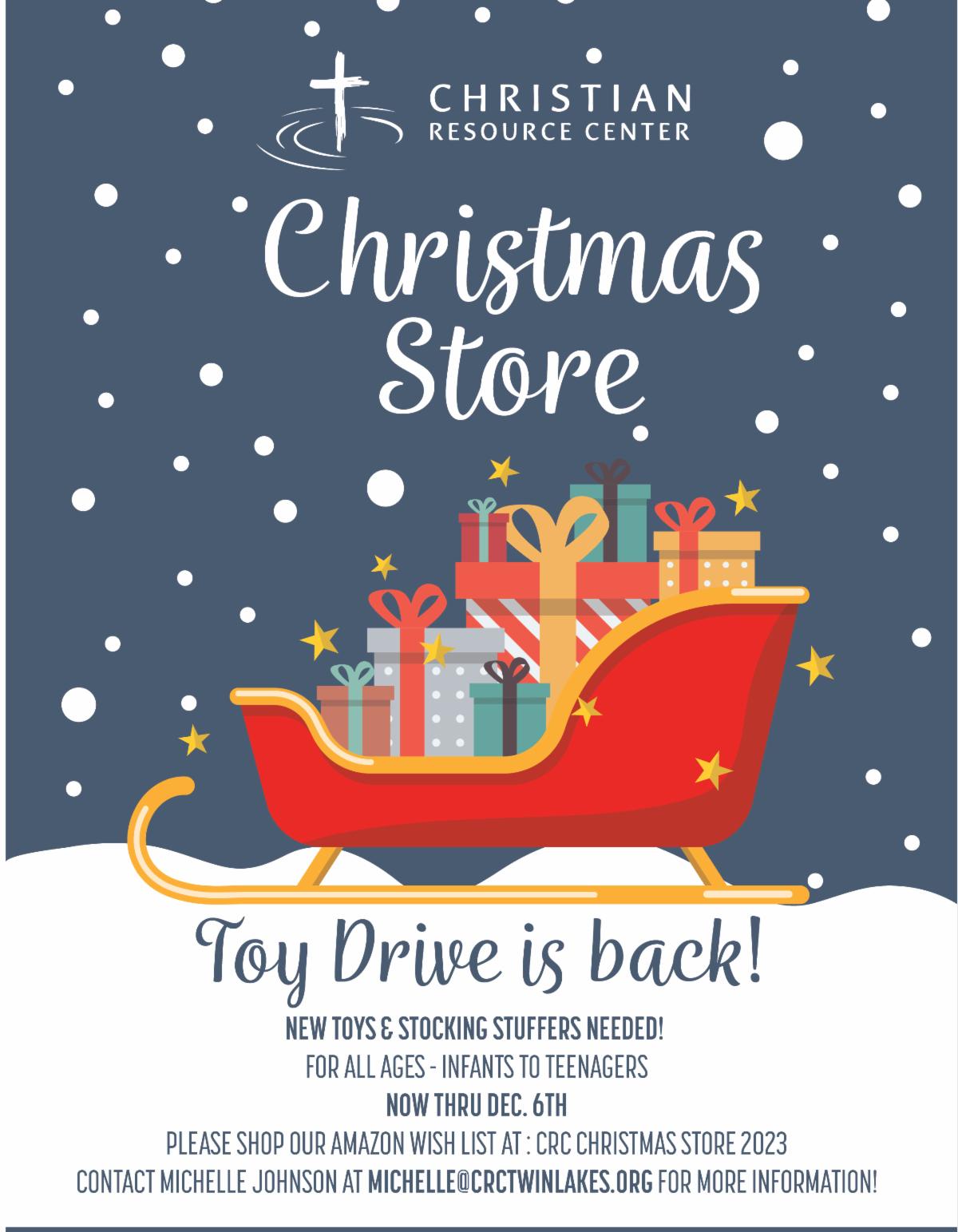 Saturday, December 9th
The Christmas Store serves families that are working people who simply cannot absorb the added expenses of the holiday season. Gifts, holiday meals, traveling to see relatives and friends, or even purchasing a Christmas tree can be an extravagance they simply can't afford.
At the Store, families will be able to purchase new gifts for $1, $3, $5, and $10 ($20 for bicycles), taking the stress out of the holiday season.
We invite you to help by volunteering your time at the Christmas Store, donating toys, or making a financial contribution for toys.
Let's bring JOY & HAPPINESS to those who need a little HOPE this Christmas!

Learn More About Volunteering & Donating
Ongoing Serving Opportunities
Care Collection Drive for Faith Home Restoration. Organize a care collection for monthly items that are needed for each house.
Become a client advocate or intercessor at a local PRC (Pregnancy Resource Center). Training is available to learn how to walk along side and care for clients.
Teach English, trade skill, or serve a meal to students at River City Hope Street. Everyone deserves the opportunity to have a structured, faith based, meaningful educational experience.
Support a new Foster/Adopt family to help them as they welcome a new child into their home.
Volunteer to help someone in the community with home clean-up or minor repairs. Partners in Hope have some upcoming workdays. All ages and skill levels are appreciated.
If you still want some help figuring out where you can serve, you can check out our affiliates or contact us at Community Impact & we'll be happy to help you!
Discover Hill Country is a perfect place to start. The classes we hold each month will help you learn more about the unique gifts and abilities God has placed in you. You will also find current opportunities to begin making a difference in the world around you.