Global Outreach
Global Outreach exists to equip and mobilize the people of HCBC to personal engagement with the Great Commission that results in making disciples of all nations.
Japan Virtual Mission Trip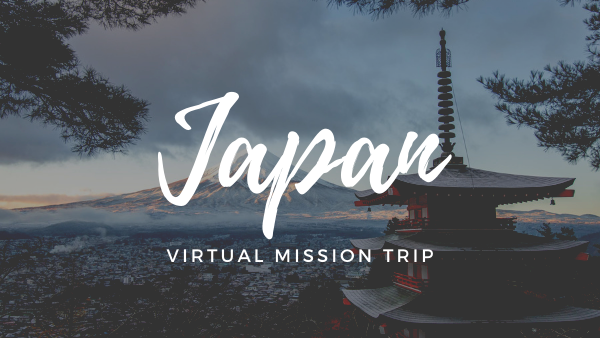 Join our second virtual mission trip to Japan!
Connect with our HCBC missionaries in Japan to learn about their ministry and local culture, virtually prayer walk through their city, and participate in Japanese food & traditions from home (including learning how to make your own sushi)! This team will grow in their understanding of God's heart for unreached people groups, strengthen their prayer life, and discover their unique role among the nations.
When? Thursday, November 11th – Sunday, November 14th. Registration is open until October 31st!
Interactive Zoom sessions will take place:
6 – 8:30 pm Thursday, November 11th
6 – 8:30 pm Friday, November 12th
7 – 9:00 am Saturday, November 13th
6 – 8:30 pm Saturday, November 13th
6 – 8:30 pm Sunday, November 14th
Who? All are invited to join this team! We recommend Middle School age and under participate with their families.
Cost? $30 for a single and $40 per family, which covers a box of Japanese items for each household to utilize throughout the weekend. The only other cost would be for sushi prep items (recommended grocery list will be emailed to participants).
Questions? Email [email protected]
English Language Ambassador
English Language Ambassadors (ELA)
Are you an English-speaking woman who desires to be used by God to transform lives? We have an incredible opportunity to respond to the needs of the refugee women in our community by meeting with them once a week to teach English, develop a relationship, and share the love of Jesus. You don't need to have prior experience teaching English because training will be provided and you'll be paired with an experienced teacher to start, or you can 'shadow' a class before making a commitment.
The upcoming 4-part ELA training will take place via Zoom from 1 - 2:30 pm on the following Tuesdays: Oct 19th, Oct 26th, Nov 2nd, and Nov 9th.
Register here for the training.
Questions? Email [email protected]
GO
Short Term Trips
We partner with long-term missionaries around the world so that God may be glorified among all His creation. By participating on a GO Trip, YOU will actively help "make disciples of all nations" by verbally proclaiming the Good News of salvation, demonstrating Jesus' life, and serving our missionaries (Matthew 28:18-20).
Stay tuned to hear about exciting opportunities in Fall 2021 and Spring 2022.
Missionary Preparation Community
(MPC) is a weekly small group environment to help guide and prepare those who strongly desire to move internationally in less than 36 months. After a short interview process, participants will have opportunities for mentoring relationships with veteran missionaries, discussion-based learning, and active experiences. This community will help you navigate your journey to the field and prepare you for your first term abroad.
If you're eager to become a part of an MPC, we would love to meet you and hear about your desire to go. Email us at [email protected]
WELCOME
Welcoming is a lifestyle of prioritizing God's mission to "make disciples of all nations" by intentionally engaging those around you from different cultures. In your workplace, neighborhood, or places you "play" God has made it possible for you to show and share the love of Jesus with the nations around you.
Would you be willing to host someone for a meal, volunteer to help them learn English, or simply befriend them while they are away from family and their passport country?
There are so many wonderful ways to BLESS those around you. Contact us for more information by emailing [email protected].
PRAY
What to pray for...
Current Missionaries
Hill Country Bible Church currently has over 60 missionaries on the field who need prayer for strength, favor, and the advancement of the Gospel Sign up here to receive our missionaries' specific requests.
Partner Gatherings
Once a month we gather with our missionary partners on the field over zoom to hear updates and pray with them. Sign up here if you would like to get reminders about upcoming gatherings.
More workers
Currently, there exists only 1 missionary for every 216,300 people who live in areas with little to no Gospel access. Jesus says, "The harvest is plentiful, but the workers are few. Ask the Lord of the harvest, therefore, to send out workers into his harvest field" (Luke 10:2). Learn more here.
The Nations
Over 3 billion people in the world today have limited or no access to the Good News of Jesus Christ. That's 40% of the world's population! Because they live in areas of the world with very few or no believers, they will not hear unless someone goes to tell them. Click here to learn about these people groups and how to pray for them.
SEND
Missionary Care Team
You can make a significant impact by supporting missionaries around the world financially or joining our Missionary Care Team. The Missionary Care Team is responsible for creating and mailing care packages, hosting appreciation and "welcome back" events for our missionaries, and coordinating housing and vehicles for our missionaries on furlough. Sign up here if you would like to join our care team or to find out more.
See where our missionaries are serving currently below: