Welcome
Welcoming is a lifestyle of prioritizing God's mission to "make disciples of all nations" by intentionally engaging those around you from different cultures. God is bringing the nations to our neighborhoods, making it possible for us to show and share the love of Jesus with the nations where we live, work, learn, and play.
Check out these wonderful ways to BLESS those around you:
Friends for Dinner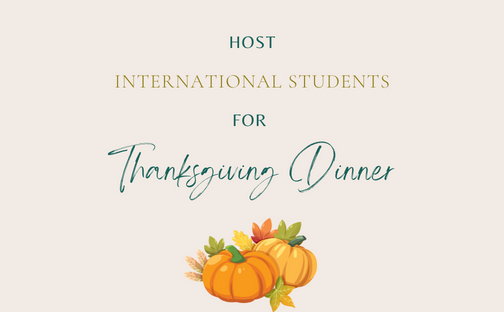 An Opportunity to Reach International Students
Studying overseas offers an exciting learning experience, but leaving home to live in a new country can also bring disorientation and even cultural shock for a great number of international students. Also, during major holidays like Easter, Thanksgiving, and Christmas, many international students struggle with loneliness since they may not have the opportunity to go back to their hometowns and families for the holidays.
The truth is, one of the greatest desires of many international students is to meet with locals to learn more about their culture and more importantly to build friendships and a sense of belonging.
Friends for Dinner wants to bring together local Christians and international students to connect during these holiday breaks in order to build genuine friendships. Through Friends for Dinner, you can make an eternal difference in the lives of internationals.
Serve Refugees
Participate in a serve day where you have the opportunity to connect personally with refugee families in a relational setting. In partnership with local ministries, we host a few refugee serve days a year. If you're interested in being updated about our upcoming refugee serve opportunities, click here!
Help Others Learn English
English Language Ambassadors
Help immigrants and refugees from unreached areas of the world learn English through our local ministry partners, English Language Ambassadors (ELA)!

Are you an English-speaking woman who desires to be used by God to transform lives? We have an incredible opportunity to respond to the needs of the refugee women in our community by meeting with them once a week to teach English, develop a relationship, and share the love of Jesus. You don't need to have prior experience teaching English because training will be provided and you'll be paired with an experienced teacher to start, or you can 'shadow' a class before making a commitment.
River City Hope Street
Serve as a conversation partner on Tuesday and/or Wednesday mornings at Twin Lakes Fellowship. Contact Laura Jacob for more information.
Connect with International Students
Bridges International
We partner with Bridges International to help welcome international college students to Austin, whether that be by donating household items to help furnish an apartment, accompanying students on hikes or other activities around the area, or opening up your home to students on special occasions like Thanksgiving. Sign up here if you would like to be notified of future opportunities.
Premier Education Partners
Open your home and your family to host an exchange student for a year through Premier Education Partners!