Men's Ministry
Become the Man God Designed You To Be
Single or married, young or old, executive or entry level, consciously living and working for a noble reason is the desire of every man. Our Men's Ministry exists to equip men of all ages to grow spiritually, lead better in their personal lives, and connect in authentic and Christ-centered relationships with others. From small groups and discipleship opportunities, to outreach events, there are plenty of opportunities for you to get involved.
---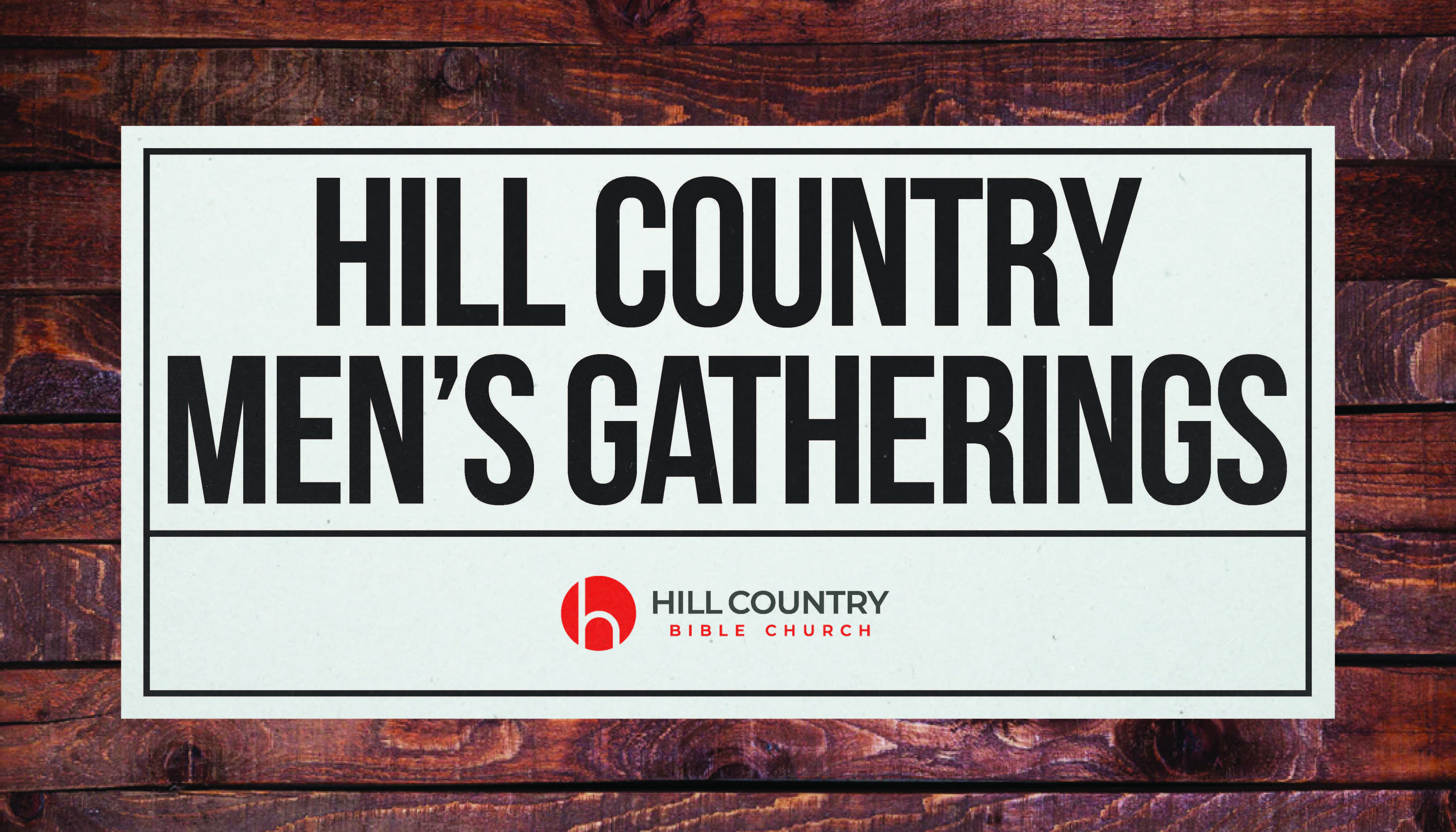 Empowering Men in Their Purpose
God created us to be in community. Join us as we seek to strengthen our walk with God, encourage each other, and offer accountability. Check out our gatherings!
If you would like more information about these Men's Gatherings, email us at [email protected]
Other Bible Study Options
Watch Previous Men's Bible Studies
You can watch previous years Men's Bible Study videos.
Toward Biblical Manhood:
Parents play a key role in training and developing their children to be men and women of God. This requires intentionality and the support of a like-minded community. The Family Ministry of Hill Country Bible Church wants to help Moms and Dads of middle-school or high-school students cooperate with other parents to disciple and mentor their daughters & sons at a developmentally appropriate level, deepen friendships between the two generations, and impart values of Biblical Manhood and Womanhood.
Toward Biblical Manhood materials can be found HERE.
If you have any questions, contact [email protected].
---
Father Daughter Campout 2023
Hill Country Bible Church has teamed with Camp Peniel in Marble Falls to lead incredible Daddy/Daughter camping experience. For those who have not attended one of these memorable events before, please join us as we journey to camp to focus on our relationships with our daughters. Our daughters need us, and this is a great opportunity to show our girls what they mean to us and to spend some awesome time with other dads and daughters.
Date: Nov 3-5, 2023
Camp Location: Camp Peniel, Marble Falls, TX
Cost: $134 for dad and $93 for each daughter (Please don't let lack of finances preclude you from joining us. Scholarships are available.)
T-shirts will also be avaiable for order a few weeks prior to the campout so they are ready for pick up at Camp Peniel, so be sure to register soon! You will receive the link to order shirts after registering for the campout.
Call Patrick Kainer: 512-366-2011 or Scott Vermillion: 303-570-2320 for more info.
If you struggle or have struggled with pornography, don't think you are alone. Statistics in the global church show that 68% of church going men view pornography on a regular basis. We know that our church is not immune, so we want to train every man to equip him to deal with this issue and be able to help other men who are in the midst of this battle. Conquer is a ministry we offer through our men's ministry to help guys overcome the destructive matter of pornography. To get a glimpse of this ministry click on https://conquerseries.com If this is something you'd like to explore further you can email us at [email protected].
Would you like to receive communication about Men and Adult Ministries happenings? Help us be able to get information to you!
To receive communication about Men's Ministry specific information, opt-in HERE.
To receive communication about Adult Ministries information, opt-in HERE.
Follow Hill Country Men on social media!
---
Questions, or want more information? Contact us at [email protected]