CELEBRATE TIM AND CINDY HAWKS' 35 YEARS OF MINISTRY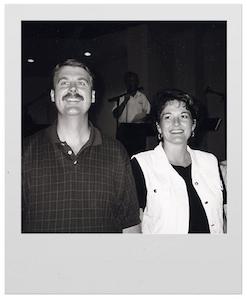 Pastor Tim Hawks has faithfully served Hill Country Bible Church for 35 years, with his wife Cindy by his side graciously serving in a multitude of ways over the years. Together, and through our church body, they've been instrumental in advancing Hill Country's mission to saturate greater Austin with the love of Jesus.
Their commitment to share the Gospel with and to love people well in both greater Austin and beyond has transformed countless lives, leaving a legacy worth honoring and celebrating in the name of Jesus.
Join us for Two Celebrations!
Our 35 days of appreciation will culminate in special celebrations events. Mark your calendars and join us for an unforgettable time of praising God.
City-wide Celebration of God at Work on November 9
Honoring 35 Years of Ministry in Greater Austin and at Hill Country Bible Church
Time: 7 pm
Location: Lakeline Worship Center

We invite you to join us to honor Tim and Cindy Hawks and celebrate God's faithfulness to Greater Austin and beyond over the last 35 years. We hope you'll come and share in thanking God for what He has done through the Hawks, Hill Country, and all the churches and ministries who partner together for Jesus Christ.
Sunday Celebration on November 12
Join us for a special Sunday service as we honor Tim and Cindy Hawks and celebrate how God has used them over the last 35 years. At both our 9 and 10:45 am services, we'll gather as a church family to express our gratitude for the Hawks and their impact. Pastor Tim Hawks will preach a farewell message, and we'll praise God together.
NOTES OF GRATITUDE FOR THE HAWKS
Starting Sunday, October 8, you'll have an opportunity to express your gratitude and apprecation to the Hawks for their 35 years of ministry. You can share things your are thankful for, how they have impacted you, special memories, and more.

Simply look for the Gratitude Note station at your Hill Country location, where you'll find a blank note card, which you can take home, write a note, and then bring back to the spot where you picked it up, and drop it in the basket.
Thank you for honoring the Hawks in this special way!