A Safe and Meaningful Experience
We're meant to be together, to learn, to worship, to pray for each other, and to encourage each other. We're committed to creating an environment that meets government and CDC recommendations for safety. To make that possible, our weekend services have been redesigned to create a touchless environment that allows for physical distancing. This includes significantly reduced capacity and additional venues. Find our more about what we are doing to stay safe below.
In-Person Service Guidelines
Hill Country's Role
Our volunteers (ushers, greeters, etc.) will be standing and sitting 6 feet apart from other attendees (family units may stand and sit with each other), wearing masks, and ensuring safety precautions are followed.

Doors will be held open by volunteers

We will not be passing the offering plate, bulletins, or communion. Our Give boxes will be available at each location and other resources can be accessed digitally (sermon notes, connect card, giving online, etc.)

Surfaces and seats will be sanitized and cleaned before and after all services

Hand sanitizer will be available at every entrance; restrooms will be sanitized between all services.

For Christmas Eve Services, reservations are required. Get your tickets here!
Children's Ministry (Newborn to 5th Grade) is available by registration at the 9 am and 10:45 am Sunday service at the Lakeline location and 10:45 am at the Steiner Ranch location. Please scroll down this page for more details.
Student Ministry (middle and high school students) is gathering in-person on Wednesday nights from 7 - 8:30 pm at the Lakeline campus. For those unable to attend Wednesday night, there's an online gathering on Thursdays from 7 - 7:45 pm on Zoom right here.
Your Responsibility
Reservations are not required; we simply ask that you sit three seats apart from others not in your group

Masks will be strongly recommended at the 9 am services, with a designated mask-required section, and they will be strongly recommended at the 10:45 am services.

Wear a mask in public spaces. If you're attending a service, and sitting in a section where masks are not required, please wear a mask unless you're in your seat.

Sanitize your hands at our sanitation stations at entrances

Keep physical distance from other attendees (6 feet); do not gather in groups before or after the service; please wave and say hello from a distance

Confirm that you are healthy with your personal doctor and do not attend if you:

Have any symptoms of illness (fever, shortness of breath, cough, runny nose, sore throat, have lost sense of taste or smell, etc.)
Are currently awaiting the results of a Covid-19 test
Have tested positive for Covid-19 in the last 14 days (wait until you have been symptom free for at least 3 days and are cleared by your doctor)
Have been in contact with anyone who has been confirmed to be Covid-19 positive in the last 14 days
Join us this Sunday!
We have services at in-person services at two locations. You can find out more details about each service below:
Lakeline
9:00 am – Mask Strongly Recommended with a designated mask-required section
10:45 am – Mask Strongly Recommended
Steiner Ranch
9:00 am – Mask Strongly Recommended with a designated mask-required section
10:45 am – Mask Strongly Recommended
*Wearing masks is required in all common spaces. This is a simple way for us to serve one another in love!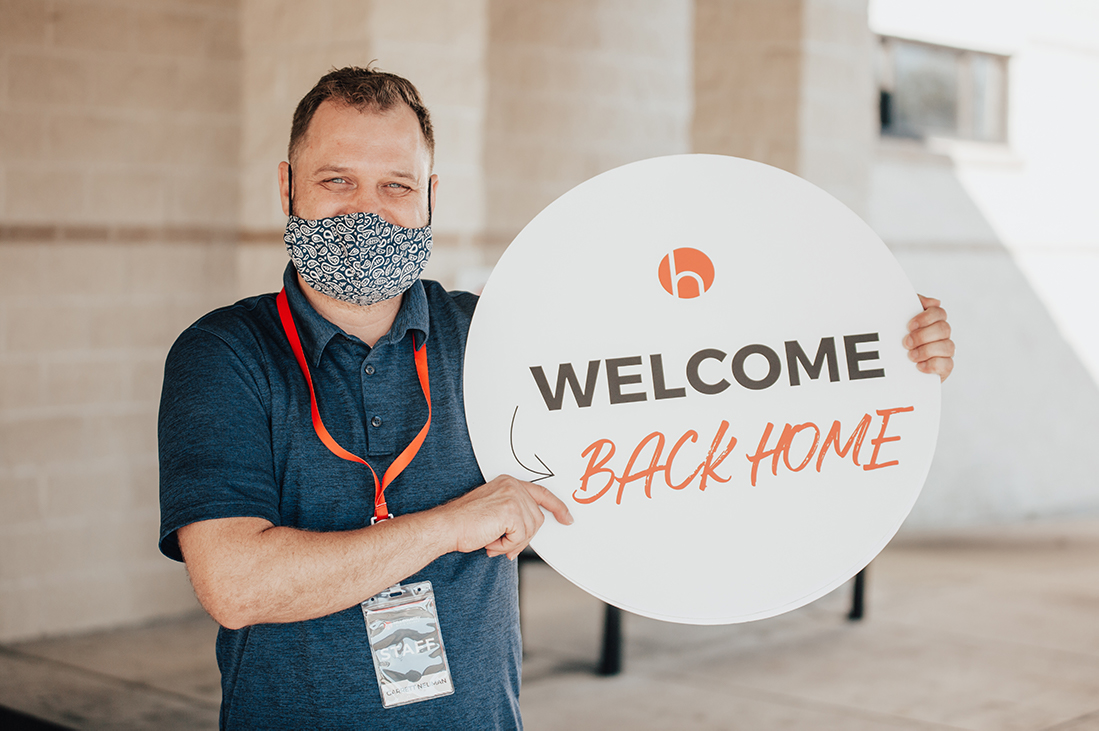 HILL COUNTRY CHILDREN
We're excited to be opening Children's Ministry (Birth to 5th grade) during the 10:45 am service at both our Lakeline and Steiner Ranch locations and at 9 am our Lakeline location. In order to carefully follow the guidelines for class size and volunteer limits, we will offer all our classes by reservation. Registration closes for the coming Sunday on Friday at noon.
While we welcome walk-in registrations for available spots, in this unusual season, weekly online registration is required to secure your child(ren)'s place. Thank you for bearing with us!
Please select a service for the Lakeline Location to register for Early Childhood and Elementary on December 20:
9 am Service 10:45 am Service Digital Health Check Cancel for Lakeline
Please select a service for the Steiner Ranch Location to register for Early Childhood and Elementary on December 20:
10:45 am Service Digital Health Check Cancel for Steiner
Safety Protocols for Children's
To keep our environment safe and fun while helping your child(ren) grow in their relationship with Jesus, we will all have responsibilities!
Our Role: We will be practicing the state guidelines for reopening and protection, including:
Health and temperature checks for every child and ongoing vigilance for symptoms.
Health and temperature checks for all staff and volunteers before engaging in ministry.
Using caution and care in our interactions and increased hygiene and sanitizing procedures during class.
For 3rd grade and under, children remain in size-limited pods or classrooms, keeping distance from other pods/classrooms.
For 4th and 5th grades, we will provide social distancing between students and require students to wear masks.
Please note: During drop off and pick up when distancing is more challenging, we ask all families entering the Children's area, except very young children, to wear masks.
Your Role:
Health Check– Please confirm at check-in that you have taken the following self-health check before arrival.
Take your household's temperature the morning of check-in to confirm your temperature is under 99.9. (We will have thermometers available on site if needed.)
Do you or does anyone in your household have symptons associated with CoVID-19? (fever, cough, respiratory or flu-like symptons, sore throat, shortness of breath, diarrhea, or loss of taste or smell)
If you have had any of these symptoms or been sick in the last 14 days, have you had any lingering symptoms in the last 3 days (72 hours)?
Has anyone in your household tested positive for CoVID in the last 10 days or is anyone awaiting the results of a CoVID-19 test?
Has anyone in your household had contact with or cared for someone diagnosed with CoVID-19 in the last 14 days?
(If you answer yes to any of the above, please enjoy our online worship option.)
Photo ID for Early Childhood children – For security for Birth to PreK, please bring a photo ID (Driver's License) for the parent planning to pick up the child (the 2 parents listed on the registration will be the only ones able to pick a child up from class).
Questions? Email us at [email protected]
FAQs
What are the safety precautions for coming to church and why should I follow them, especially if I'm healthy?
The best way to demonstrate the love and grace of Jesus is to serve one another in love and consider others' needs and preferences more than our own. Many people with COVID are asymptomatic and "feel fine" but would unknowingly be putting others at risk. To live for others, we request you:

Wash your hands often/thoroughly; wear a mask throughout your on-campus experience
Practice social distancing (6 feet) with people outside of your household (even if you see others who are not doing so!)
Stay home if you (or anyone in your household) are showing any symptoms of illness
Walk in grace as you encounter any roadblocks or challenges; we're all in this together and doing things we've never done before
What is provided for families with kids at this time?
We are offering on-site Children's Ministry (Birth to 5th Grade) at both our Lakeline and Steiner Ranch locations, with required registration. To register, follow this link.

Additionally, we have many resources to help families grow relationally and spiritually every day!

Visit our Children' Online web age to get started: Visit Page!

Watch weekly worship online - Family Discussion Questions for each week's message are included on this page
Weekly lessons for you and your kids are also provided

Join our "Hill Country Children" Facebook page: Click here!
Where should I go for in-person worship if "my campus" has not been reopened yet?
It is a joy and blessing to be ONE church in multiple locations! Right now, we have an opportunity to demonstrate that we truly are one church! Although there will be special and unique happenings at each campus/community in the weeks and months ahead, right now, we are only offering in-person worship at the two physical locations/buildings that we own (Lakeline and Steiner Ranch).

We encourage anyone who is healthy and able to worship in-person to join us at either of these locations! God's design is for us to gather together to worship Him.
We will continue to offer services online - "Together at Home" for anyone who has limitations (health, age/stage of life, etc.) or prefers to worship at home - Watch Now
Pray for our church, community, and country as we work together with local, state, and national leaders
What is the next phase/tier of ministry going to look like?
There are many factors to be considered as we carefully think about next steps. We desire to faithfully walk in grace, work well with local, state, and national leaders, and minister effectively for Jesus Christ in the community we love.

Stay tuned for more updates as we carefully monitor the health trends in our community and continue conversations with government and safety officials. We will continue to provide updates on our webpage, through email, social media and weekend announcements. We desire to reopen more and more ministries to spiritually serve you, your family and all the people of our community. We are grateful for the opportunities that technology provides – including online worship and ZOOM meetings for small groups and other gatherings during this unique season. We are asking God to reveal new ways that we might serve one another and grow together in unprecedented times.

For continued connection and community right now, we'd love you to explore the resources here.
Should Everyone Come Back?
While we'd love to see each of you in-person, we know there are some limitations that may prevent you from attending. If you find yourself in one of the following categories, please consider continuing to worship online:
You are over the age of 65
You are at risk or have a compromised immune system
You are sick or have been around anyone that has been sick
You have small children who find it difficult to stay in a seat through a service; our Early Childhood Children's Ministry is open by reservation during the 10:45 am service. Please find details directly below.
You are pregnant
You are more comfortable worshiping at home
Whether or not you are able to return to physical gatherings at this time, the most important thing is that we stay spiritually and relationally connected as a church family — in person or online!